INTENTIONALITY, GOD'S GLORY, AND THE CHURCH
If you have not read Part I or II yet, it is recommended you do so prior to reading this article. Click here to go to Part I of this series or here to go to Part II of this series.
While there has been some positive correction in the church, we still need to be more intentional about God's glory. Our churches must be actively and intentionally making God's presence manifest throughout the world. When God's glory is our litmus test, we will see the following healthy church characteristics:
THE CHURCH'S PURPOSE WILL… MATCH GOD'S PURPOSE (Habakkuk 2:14)
THE CHURCH'S ENDVISION WILL… MATCH GOD'S ENDVISION (Matt 24:14, Rev 7:9)
THE CHURCH'S TASK WILL… BE THE TASKS GOD HAS ASSIGNED TO REACH
HIS GOAL (Matt 28:18)
A HEALTHY CHURCH WILL BE… INTENTIONAL ABOUT FULFILLING GOD'S
PURPOSE AND GOALS.
A HEALTHY CHURCH WILL ALSO… EVALUATE ITSELF AND BE WILLING TO
CHANGE TO INTENTIONALLY GLORIFY GOD.
As we wrap up this series of articles, let's examine a couple of modern church paradigms. As you review these diagrams, prayerfully keep your own church's purpose, tasks, and endvision in mind. Which paradigm best describes your church or those churches in your network? Prayerfully and carefully consider your steps and let your God instruct you.
First, let's consider the following church paradigms:
The Sunday-Event Paradigm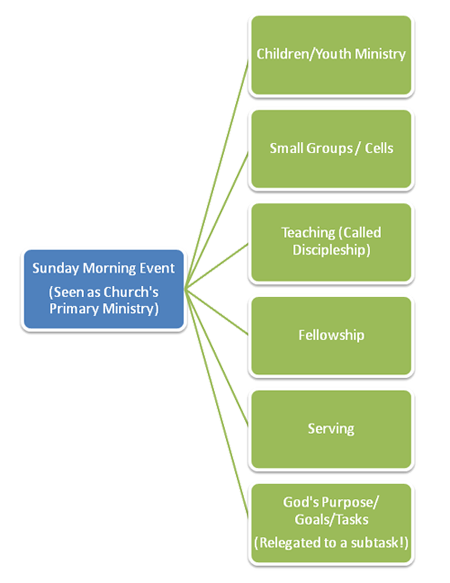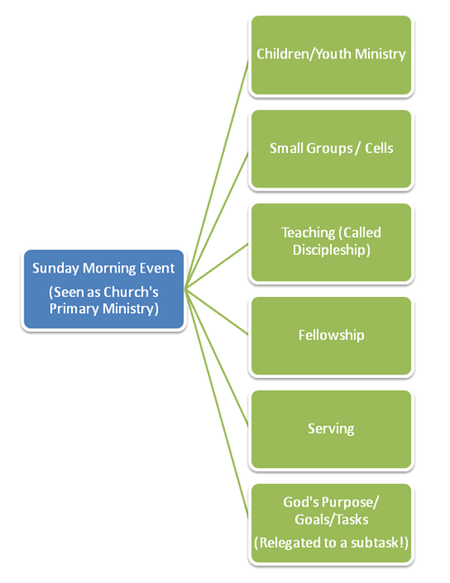 In this paradigm, the church's primary focus is on the Sunday morning event. God's purpose and goals are seen as fulfilled by the Sunday morning event. The majority of the church's resources and energy are spent on the Sunday experience. While the Sunday morning event is not a bad thing, if it's importance is elevated above God's purpose and goals among the church leadership and body, over time this will produce an unhealthy church.
The Ministry Options Paradigm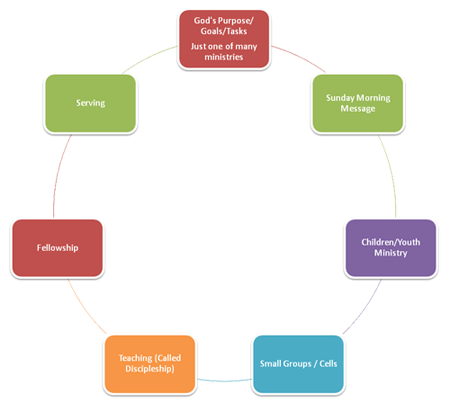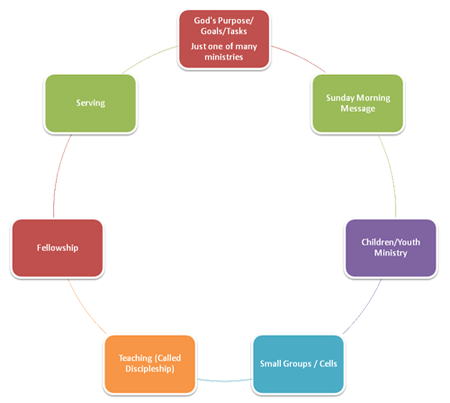 In this paradigm, God's purpose, goals, and tasks are just one of many ministries; a box to be checked off. Is it right to regard "missions" or "outreach" as simply another ministry option alongside "church cleaning ministry" or "media ministry"? God's purpose is not optional! All other "ministries" may cease, but God's purpose cannot. It is not something reserved for only those "called" to it. To be called by God to follow Christ is to be called to fulfill His purpose! To relegate God's purpose and primary task on earth to just one of many ministries points to a serious lack of understanding of who God is and what He desires.
God's Glory-based (Biblical) Paradigm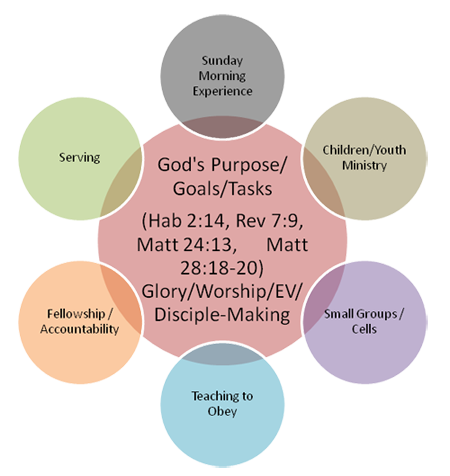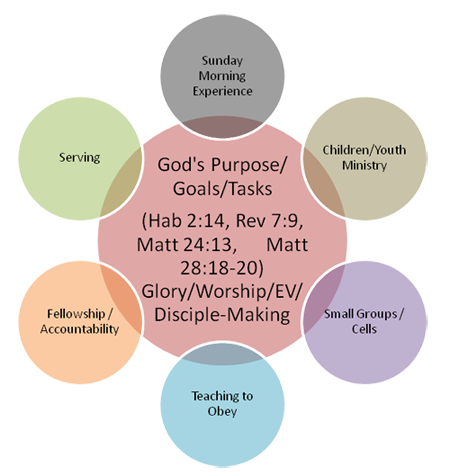 In the God's glory-based paradigm, God's purpose, goals, and tasks are the central hub out of which all other ministries flow, and by which the success of all other "ministries" is judged. Each church function can be evaluated based on the criteria of it furthering God's Kingdom and His glory. All programs and ministries understand that their ultimate purpose is God's purpose and that their tasks and goals are God's tasks and goals. The result is a healthy church intentionally working to fulfill each part of Jesus' Masterplan (Mark 4:26-29) and desiring for God's glory to be known to the ends of the earth. Any other purpose at the heart of the local church body misses out on what God has called them to be. If God's purpose and endvision are not the impetus for and criteria by which every ministry task is judged worthy, some ministries can actually hurt God's goals for the church. Clearly, everything that is done must be very intentional about fulfilling God's purpose, mission, and ultimate endvision. Doing any ministry without evaluating it against God's plan and goals simply results in visionless ministry devoid of focus and direction. The result is an unhealthy church!
To God alone be the Glory!