Since its publication earlier this year, Steve Smith with Ying Kai's T4T: A Discipleship Re-Revolution has spread rapidly to churches, mission agencies and thousands of individuals across the U.S. and around the world. One repeated request to the publisher, WIGTake Resources, has been: "Can you make the book available on Kindle?"
It's happened! WIGTake Resources, has just uploaded T4T: A Discipleship Re-Revolution to the Amazon Kindle store!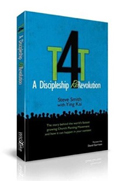 Kindle

Store
If you have friends or colleagues serving in restricted access countries, please pass on this important announcement to them. Many of them have expressed a desire to learn about and implement T4T, but have been awaiting the delivery of the book in Kindle e-book format.
If you don't yet know about T4T (Training for Trainers) that is at the heart of 1.7 million baptisms and more than 150,000 new church starts, click here to read what others are saying about T4T.